Universal Packaging - Innovation inside and out.
Innovation isn't a sometimes thing. You'll find it throughout our company, in every aspect of our business. So while some companies would have been just fine putting new products in the same old plastic containers, we wanted something different — something that would make a difference.
We sought out packaging that would help to significantly reduce the energy, fuel, and waste of getting Universal Lubricants to our customers. Packaging that would put all the oil in the engine instead of leaving it stuck in the bottle. We wanted containers that would stand up to tough handling but were easy to use. Here's what we came up with.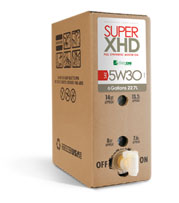 Universal's bag-in-a-box package is a simple idea with big benefits for our customers and their planet. It stacks easier, stores smaller, and pours quicker than plastic bottle alternatives - and significantly cuts land-fill waste.

Takes up one-half the space of single-quart cases
External pour spout is easy to reach, quickly shuts off for precise measuring
Saves a half-pound of plastic with every oil change
Cardboard outer shell is completely recyclable
Empties more completely than plastic bottled oil
Universal and Sustainability