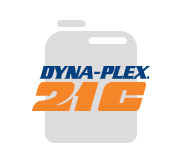 Extended Drain Engine Coolant Antifreeze
Dyna-Plex 21C® Extended Drain Antifreeze/Engine Coolant is a premium quality ethylene glycol based product. It is pre-diluted to a 50/50 mixture with deionized water to provide excellent corrosion control and a reduction of scale buildup. The corrosion inhibitor package eliminates the need for an initial charge of supplemental coolant additive (SCA). The 50/50 dilution with deionized water insures high water quality and eliminates the chance for error when mixing antifreeze with water in the field.
Dyna-Plex 21C Extended Drain Antifreeze gives the maximum protection and performance available for heavy duty diesel applications, while eliminating potential water related problems. Advantages of this product include the highest quality inhibitor package available and its ready to use convenience.
Universal Lubricants® recommends good maintenance practices to monitor inhibitor levels on a regular basis by utilizing coolant analysis, which is an important aspect of extending the life of this coolant/antifreeze. This product meets or exceeds manufacturer specifications for use in both heavy duty diesel and automotive applications.
NOTE: Dyna-Plex 21C Extended Drain Antifreeze is not an extended life coolant.