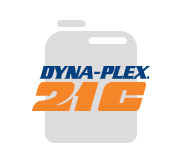 Corvus SAE 20W-40 Engine Oil
Dyna-Plex 21C® Corvus Railroad Engine Oil is formulated to meet the performance requirements of locomotive diesel engines designed around the strict EPA Tier 4 emission standards. This lubricant provides balanced performance incorporating complex detergents, advanced dispersants, and superior oxidation and wear inhibitors to effectively address the detrimental effects of lower oil consumption and engine modifications in new and remanufactured Tier 4, Tier 3, Tier 2+, Tier 1+ and Tier 0+ locomotives. This engine oil is zinc-free, and provides excellent protection of silver wrist pins and turbo charger bearings. In addition, this formulation has reduced SAPS (sulfated ash, phosphorus, and sulfur), and incorporates advanced dispersant technology providing improved cleanliness and deposit control. This product provides excellent protection against yellow metal corrosion and wear, as well as enhanced oxidation and thermal stability.
Dyna-Plex 21C Corvus Railroad Engine Oil meets the latest LMOA Lubricant Oil Classification, LMOA Generation 7, which supersedes previous LMOA classifications. It is designed to satisfy EMD and General Electric locomotive diesel engines, and backward compatible for older EMD and GE locomotive diesel engines, as well as legacy models from Bombardier, Detroit Diesel, ALCO, and Fairbanks Morse. This product is specifically recommended for railroad locomotive diesel engines, as well as other medium-speed stationary and marine diesel engines, as it meets the 184-drain interval by providing control of rocker box deposits and sludge information.