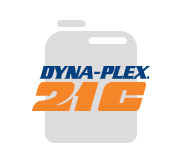 Super Gear Oil SAE 60
Dyna-Plex 21C® Super Gear Oil (SGO) is blended specifically for final drive and axle applications with high load and high temperature conditions. The product's primary function is the protection of the gears and bearings in these extreme conditions. The lubricant is formulated for the Caterpillar final drives and axles that formerly required TO-4 oils and that do not contain friction materials. The oil does not develop the necessary friction to satisfy the requirements of most brakes and clutches.
Dyna-Plex 21C Super Gear Oil meets the requirements of Caterpillar FD-1. It possesses the excellent rust protection and copper corrosion protection. The product is capable of extending oil drain intervals and increasing oil life due to reduced oxidation rate. The product has been formulated to be compatible with TO-4 oils and Caterpillar seal material. Dyna-Plex 21C Super Gear Oil is a suitable replacement for the Caterpillar FDAO products.