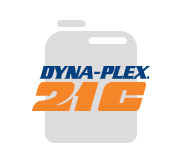 Sirius 608
Dyna-Plex 21C® Sirius 600 Series Oils contain an 'extreme pressure' additive system. This allows the lubricant to remain water, rust and corrosion resistant in severe situations. These lubricants excel in industries where load carrying capacity is required. The combination of high viscosity base oils and additives maintain shear stability and reduce wear, even under hot, wet and dirty high load or extreme pressure conditions.
Dyna-Plex 21C Sirius 600 Series Oils adhere to metal, even under the most severe conditions. These unique characteristics are imparted by a polar agent with special cohesive and adhesive properties and help extend component life.
Dyna-Plex 21C Sirius 600 Series Gear Oils are suited for the lubrication of a wide variety of industrial and mobile equipment, enclosed gear systems, chain drives, sprockets, plain and anti-friction bearings, slide guides and flexible couplings. They excel in the lubrication of enclosed gear drives and reducers from fractional horsepower gear motors to the large high horsepower units on rolling mills and hoists.