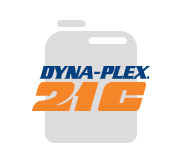 SHPD SAE 15W-40 Engine Oil
Dyna-Plex 21C® SHPD Engine Oils are designed to extend drains in today's heavy duty diesel engines while providing outstanding engine protection. Dyna-Plex 21C SHPD oils incorporate base stocks exhibiting synthetic blend properties which provide high oxidation stability for petroleum oils. These base oils provide the lowest sulfur content with the highest saturate levels and enable oils to demonstrate oxidation characteristics comparable to high priced synthetics. These exceptional oxidation results contribute to SHPD's ability to fight degradation, allowing drain intervals to exceed usual limits.
Dyna-Plex 21C SHPD Engine Oils are also formulated with the highest performance additive package technology available, allowing you to safely operate equipment longer between oil changes and increase your bottom line profits. Dyna-Plex 21C SHPD Engine Oils meet or exceed the current and past API license requirements, are backward compatible with old formulations, and provide the protection required for newer 21st century engines, providing truly universal application flexibility.