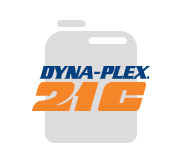 SHPD SAE 50 Engine Oil
Dyna-Plex 21C® SHPD Engine Oils provide optimum protection against low temperature deposits while controlling high temperature varnish. Their superior pumpability means a reduction in engine wear that often occurs in the first few minutes after start-up in cold temperatures.
Dyna-Plex 21C SHPD Engine Oils contain anti-wear additives which provide outstanding protection against scuffing of highly loaded cams, hydraulic lifters and other valve train components, resulting in reduced engine wear. In addition, oxidation inhibitors provide "oil thickening" resistance and rust inhibitors protect against rusting and corrosion of valve lifters, bearings, cylinder walls and other critical engine parts. Because of the shear stable viscosity modifier, Dyna-Plex 21C SHPD Engine Oils reduce oil consumption while improving fuel mileage, helping you reduce operating costs.