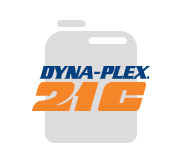 Synzol LDS 80W140 Gear Oil
Dyna-Plex 21C® Synzol LDS Synthetic Gear Oils are premium quality, long drain, synthetic gear oils for use with hypoid gears in differentials and, where applicable, manual transmissions found in cars, trucks, and heavy equipment.
These oils are non-original equipment manufacturer (OEM) approved products designed for use up to 500,000 miles in over-the-road truck differentials where the equipment manufacturer supports this drain interval. They contain field proven technology that demonstrated outstanding wear protection and oxidation resistance throughout a 500,000 mile service life.
Dyna-Plex 21C Synzol LDS Synthetic Gear Oils are extreme pressure (EP) fortified for heavy load gear protection, resist heat degradation, contain anti-foam properties, promote long seal life, contain rust and oxidation inhibitors, are shear stable and maintain viscosity, compatible with most limited slip differentials, and provide all season performance.