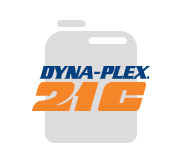 Cursa Multi-Functional HZ Hydraulic Oil
Dyna-Plex 21C® Cursa MF HZ Hydraulic Oils are high quality, extra inhibited oils designed with hydrocracked Group II base oils, for use in multi-functional applications where long oil life is required. These oils will give you steady, reliable performance as a hydraulic medium, and contain an enhanced zinc package which gives added protection in severe service.
Dyna-Plex 21C Cursa MF HZ Hydraulic Oils have been finely filtered to remove external contamination and contain special O-ring conditioners to prolong hydraulic component life. Seal swell agents have been added to prevent leaks and Cursa's demulsability characteristics enhance separation and removal of water. These oils will supply 5000 hours of service before extreme oxidation problems occur and also provide excellent resistance to foaming, rust and wear. Dyna-Plex 21C Cursa MF HZ Hydraulic Oils are designed for mixed fleets, which allows one fluid for all hydraulic applications.