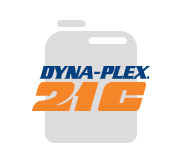 High Performance 10W Hydraulic Oil
Dyna-Plex 21C® High Performance Hydraulic Oil is specially formulated to meet the needs of heavy duty hydraulic systems. High quality ingredients include thermally stable antiwear agents, multifunctional ashless dispersants, rust and oxidation inhibitors, and anti-foam materials. This product offers excellent protection against wear, corrosion and rusting in hydraulic systems.
Dyna-Plex 21C High Performance Hydraulic Oil received a "pass" on the Vickers Vane Pump Test (35VQ25), is designed to resemble the new Caterpillar HYDO Advanced and contains > 900ppm zinc (0.09%) for CAT applications.