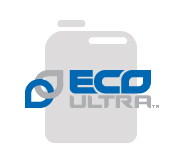 Multi-Vehicle Synthetic Blend Automatic Transmission Fluid
ECO ULTRA® Multi-Vehicle Synthetic Blend Automatic Transmission Fluid (ATF) is a multifunctional transmission fluid for numerous makes of passenger cars, trucks, construction and mining equipment, farm machinery and other mobile and industrial systems.
ECO ULTRA Multi-Vehicle Synthetic Blend ATF is blended with highly re-refined Group II base oils and offers many performance benefits, including superior cold temperature performance characteristics, wide range of seal compatibility, excellent wear protection, superior frictional characteristics with excellent friction retention and smooth shifting. It also has excellent corrosion and rust preventive properties, as well as rigid anti-foam characteristics. It will not cause excessive seal swell or shrinkage, nor will seals excessively harden or soften.
This ATF allows for inventory optimization as it meets multiple applications and provides excellent service in a wide variety of automatic transmission applications.