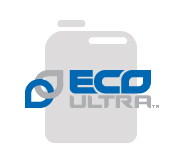 All Makes/All Models Prediluted 50/50 Antifreeze
ECO ULTRA® All Makes/All Models Prediluted 50/50 Antifreeze/Engine Coolant is ready to add to your vehicle cooling system for automotive/light duty vehicles as well as those of the heavy duty diesel engine. No further dilution is necessary. It contains a low silicate, phosphate free inhibitor package that provides excellent all metal protection. In automobiles, light trucks, SUV's, vans, and other light duty applications, this product has a recommended service interval of 5 years or 150,000 miles, provided the required maintenance practices are followed.
This prediluted ECO ULTRA Antifreeze/Engine Coolant will not affect engine or vehicle finishes, and is compatible with all major American brands of antifreeze and supplemental coolant additives (SCA). It will not adversely affect radiator hoses and contains a high quality defoamer and additives to control scaling and is compatible with most major brands of coolant filters. This product does not require an initial treatment with a SCA when used in a diesel application. Universal Lubricants® recommends following OEM's suggested intervals for adding SCA's.