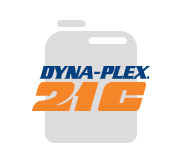 Hi-Temp 500+ Moly NLGI #2 Grease
Dyna-Plex 21C® 500+ Moly grease is a lithium complex grease specially formulated for high load, high temperature and extreme pressure applications. It is enriched with molybdenum disulfide so it is long-lasting, decreases energy consumption, adheres to metal and reduces wear.
Dyna-Plex 21C 500+ Moly grease features excellent heat reversing characteristics. It does not become fluid at elevated temperatures and returns to its original structure after cooling. In addition, this grease is resistant to water and will not soften or break down.