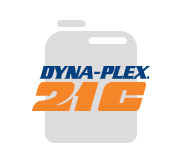 Hi-Tac NLGI #2 Grease
Dyna-Plex 21C® Hi-Tac is a general purpose grease which is versatile and economical. It provides superior protection and does not become fluid, even at elevated temperatures. Tests have proven this grease resists breakdown and maintains performance.
Dyna-Plex 21C Hi-Tac grease is compounded to provide an excellent friction-free cushion that prevents contact between metal surfaces. Wear is reduced and life of machinery is extended. Dyna-Plex 21C Hi-Tac also meets the requirements of NLGI GC/LB (ASTM D4950) for automotive applications.