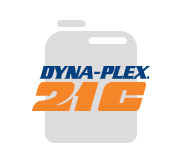 Ultra Blue NLGI #2 Grease
Dyna-Plex 21C® Ultra Blue is a high temperature grease for protection in severe conditions. It is a lithium complex grease compatible with seals and materials and is durable under heavy loads for long periods of time. Ultra Blue is formulated with additives that resist water and inhibit corrosion and oxidation, resulting in less rust, chafing and bearing fatigue.
Dyna-Plex 21C Ultra Blue has a fibrous composition and high tensile strength which make it an extremely tacky grease that is not thrown off, but still pumps easily in cold weather. This grease adheres to metal and resists separation, even in grueling conditions, which provides an added measure of safety in extreme heat and pressure situations. Dyna-Plex 21C Ultra Blue also meets the requirements of NLGI GC/LB (ASTM D4950) for automotive applications.