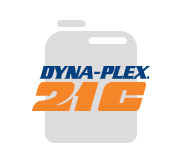 Therma-Steel Grease
Dyna-Plex 21C® Therma-Steel Drill Steel lubricant is an environmentally preferred, leadfree compound specifically designed for percussion drilling. Its formulation is highly fortified to provide excellent resistance to shock, galling and seizing. Its anti-friction properties are unsurpassed, while providing easy thread assembly and disassembly.
Dyna-Plex 21C Therma-Steel provides yesterday's leaded performance in today's leadfree environment. It makes up easy, breaks out with less torque, and resists washaway due to its state-of-the-art aluminum complex thickener.
Dyna-Plex 21C Therma-Steel is recommended for percussion rock drilling, blast hole drilling, road construction, logging, mining, coal drilling, pneumatic and track drilling. DynaPlex 21C Therma-Steel 75 is brushable and Dyna-Plex 21C Therma-Steel 89 is pumpable.