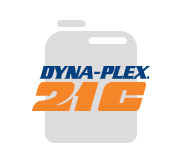 Aldura EP Grease
Dyna-Plex 21C® Aldura EP is a unique high performance multi-purpose automotive and industrial grease. This state-of-the-art third generation polyuria represents a significant improvement in performance over conventional lithium and lithium complex greases.
Dyna-Plex 21C Aldura EP offers several key features, including long life at high temperatures; extreme pressure characteristics; excellent rust protection; excellent water resistance; excellent low temperature properties; and excellent shear stability characteristics similar to lithium greases. In addition, it is friendly to copper containing components at high temperature and friendly to the environment since it contains no heavy metals or chlorine compounds.
Dyna-Plex 21C Aldura EP is compatible with many elastomeric seal materials, such as Neoprene, Nitrile, Hytrel and Silicone. Additionally, Dyna-Plex 21C Aldura EP meets the requirements of NLGI GC/LB (ASTM D4950) for automotive applications.