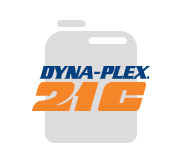 Zinc Free Anti-Wear #32 Hydraulic Oil
Dyna-Plex 21C® Zinc Free Anti-Wear (AW) Hydraulic Oils are premium, high performance, anti-wear oils designed for use in environmentally sensitive areas. They provide maximum pump life and trouble-free service. The rust and oxidation preventive capabilities, including superior demulsibility properties, make these oils rugged, even in high-output systems. These oils also feature excellent vane pump and piston pump performance, anti-foam characteristics and superior hydrolytic stability. Dyna-Plex 21C Zinc Free AW Hydraulic Oil's ability to control formation of contaminants helps prevent filter blockage.
Dyna-Plex 21C Zinc Free AW Hydraulic Oils resist deterioration and perform at superior levels, even at high operating temperatures, pressures and speeds and low pour point ensures easy system start-up in cold conditions.