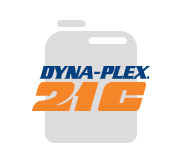 Synzol 50 Transmission Oil
Dyna-Plex 21C® Synzol Synthetic Manual Transmission Fluid is recommended for applications where heat and wear present major problems. These applications include manual transmissions where GL-1, GL-2, GL-3, and GL-4 type fluids are required.
Dyna-Plex 21C Synzol is a full synthetic designed for today's transmission syncronizers and is formulated for years of trouble-free shifting.
Dyna-Plex 21C Synzol meets Eaton and Meritor 750,000 mile extended warranty requirements, allowing the user to go 500,000 miles between drains in Eaton, Meritor, and Mack transmissions.