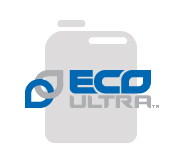 Extended Life Coolant (ELC) Prediluted 50/50 Antifreeze
ECO ULTRA® Extended Life Coolant (ELC) Prediluted 50/50 Antifreeze/Engine Coolant is ready to add to your vehicle cooling system for automotive and light duty vehicles as well as those of the heavy duty diesel engine. No further dilution is necessary. It contains a nonsilicate, phosphate free inhibitor package that provides excellent all metal protection. A proprietary silicate-free corrosion inhibition system protects aluminum better than silicate without the problems of silica gel formation or silicate cloudiness. In heavy duty applications and automobiles, light trucks, SUV's, vans, and other light duty applications as well, this product can provide a service interval of 300,000 miles or more, provided recommended maintenance practices are followed.
This prediluted ELC Antifreeze/Engine Coolant is formulated with a very robust Nitrite and Molybdate chemistry specifically designed for heavy duty applications. The advanced NMOAT coolant provides maximum protection against rust and corrosion. The additive chemistry contains no Phosphates, Silicates, Nitrates or Amines. Ask your OEM or Universal Lubricants® Sales Representative for an appropriate extender or suitable test strips for increasing the life of your ELC.