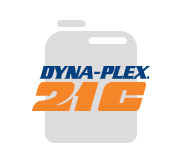 Synzol Heavy Duty Automatic Transmission Fluid
Dyna-Plex 21C® Synzol Heavy Duty (HD) Automatic Transmission Fluid (ATF) is a premium quality, synthetic lubricant used in heavy duty automatic transmissions. It is formulated with the quality level to support extended drain intervals, where applicable.
Dyna-Plex 21C Synzol HD ATF provides excellent thermal and oxidative stability for long transmission life and exceptional all weather performance in both hot and cold temperature extremes. It is shear stable for long term viscosity protection and contains durable friction properties to ensure smoother shifting transmissions.
This product is designed for use in heavy duty automatic transmissions typically found in bus fleets and over-the-road trucks.