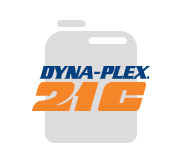 Calzon With Moly NLGI #2 Grease
Dyna-Plex 21C® Calzon with Moly uses calcium sulfonate chemistry which has been shown to outperform lithium, aluminum and polyurea chemistry greases. It is exceptionally compatible with other greases, and provides outstanding rust protection.
With the addition of molybdenum disulfide, Dyna-Plex 21C Calzon with Moly delivers superior handling of heavy loads and shock loading, without compromising its water resistance, extreme pressure performance or oxidation resistance.
Dyna-Plex 21C Calzon with Moly is environmentally friendly as it contains no lead, antimony, zinc, barium or phosphorous.